Discussion Starter
·
#1
·
Had my new tires installed today (yay!), but they showed me that the rear tie rod ends are in pretty bad shape: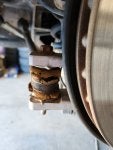 They're still tight so it's not an emergency, but they still need to be replaced.
Any leads on where I might find these?
I read in an old thread that Jaguar S-Type ends will fit, I'd just have to buy the whole link and take off the ends myself. Is that what all the cool kids are doing these days?