Discussion Starter
·
#1
·
My Fisker ownership started out like make many others have I'm sure, following the company, loving the looks, reading plenty of reviews (good or bad), and ultimately deciding that the car is worth taking a chance on a new company. Where mine story varies is that I was never actually looking to buy one myself.
I have always had a very close relationship with my Dad, we work together and we both have a lot of the same interests and passions, with one being cars. I have guided and assisted him on buying and selling more cars then I can count over the past 15 years, it has turned into something that we do together. Last May I had told him that a Fisker dealer had opened up nearby and we should go take a look at the car. He didn't remember much about it, but after I showed him a few photo he was on board. We made the trip down and got an education by a very knowledgeable salesman. We worked up some numbers on getting one for my Dad, but it just wasn't meant to be at the time.
Some time had passed and it was now October, we had both been keeping an eye out for maybe a used one, but not paying too close attention to the market. Well after I made an impromptu phone call to him on a Saturday and an hour discussion about the car, the fire was lit again and he was on a mission to find one. In a matter of days, he had located a new one, bought it and had it delivered. It was silver with the Monsoon Tri-tone, and looked awesome coming off the trailer. He also talked to the dealer about the possibility of getting a second one that I could buy. This was without me ever even considering actually buying the car for myself.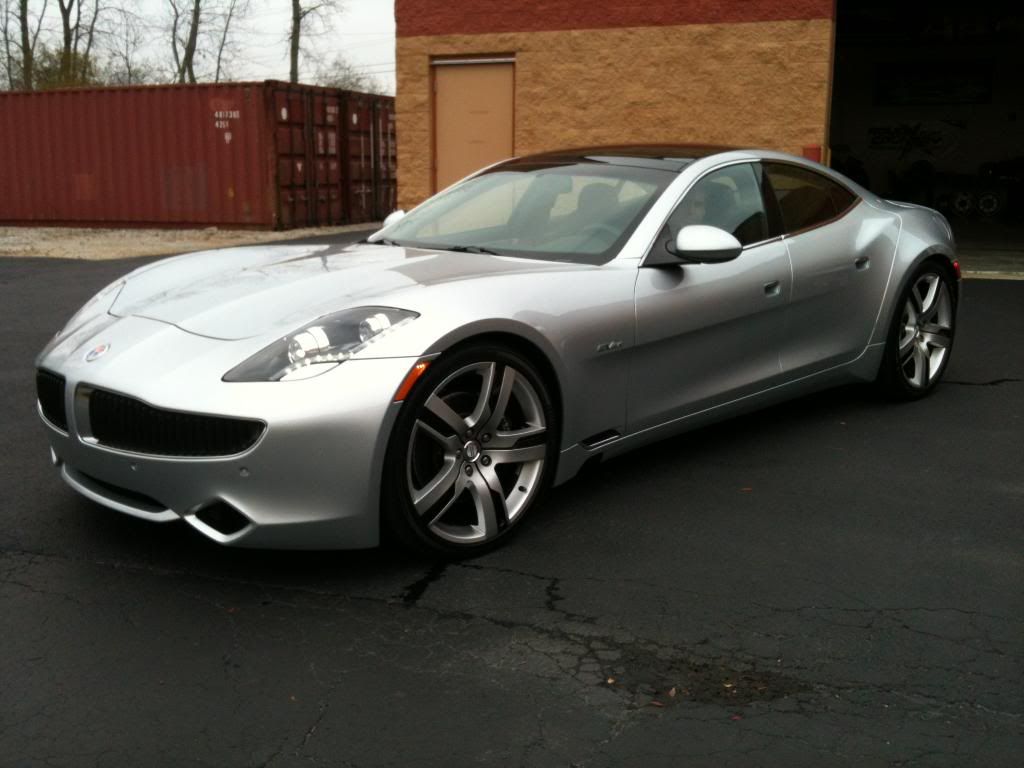 Well, just seeing the car again up close and getting to take it out for a spin I couldn't get the grin off of my face. I have always described the car as sexy and gorgeous, which my wife has never understood, until she saw the car in person. I took her for a ride in his car and within a mile she said "I love this thing, if we can get one do it"! That was all I needed to hear, now I was on the mission. After talking to the dealer and trying to locate a car, two weeks later I am now the proud owner of my own Fisker. It is Eclipse with the Canyon Tri-tone and drop dead gorgeous! I have had it for two weeks and still can't believe that it's mine. Never even really considering it a possibility of owning one, more or less just dreaming about one, actually having it in my garage is incredible. I have been able to share a lot of cool experiences with my dad, but having father son owners of Fiskers is awesome. I don't know how many other people will get to experience this with their mother/father or daughter/son, but I can say that it is a great feeling to have.
Parked together at work